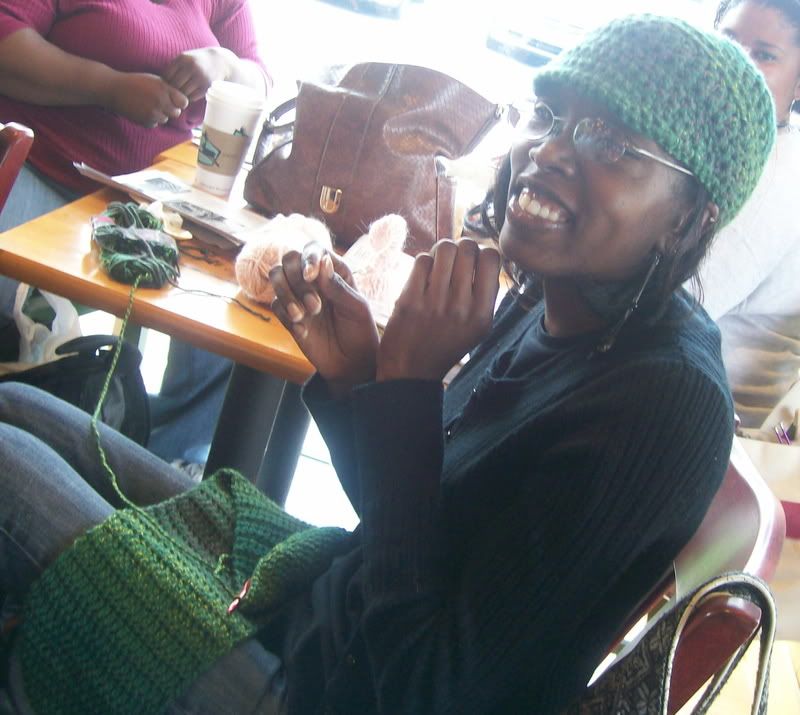 1. How did you hear about Charlotte Purls and when did you join?
I was invited by Stacey when she visited my crochet group

2. How long have you been knitting/crocheting and who taught you?
I have been crocheting for about Five years and knitting about 10 months.

3. What is your favorite item(s) you like to knit/crochet that you could never get enough of doing?
I enjoy crocheting anything!

4. Is there one thing you really have no desire to knit/crochet?
My new found desire is to learn how to knit socks!

5. How often during the week do you knit/crochet and when do you normally fit in time?
I normally crochet three times a week and if I have a knit project I try to work on it.

6. What is your favorite project to date that you knitted/crocheted?
My favorite knit project is mwrist warmers

7. At this moment, what is your future dream project you would like to knit/crochet?
An easy sweater or top

8. What one new knitting/crocheting thing do you want to learn in 2008?
I just want to learn any new technique it doesn't matter what it is

9. What are your "go to" knit/crochet book(s)?
I use my crochet encyclopedia alot and for knitting I use the web!

10. Other than knitting/crocheting are there any other hobbies or activities you enjoy doing?
I love to shop

11. Tell us, how would your close friends/family describe you?
Out spoken

12. If you could have a full day to spend with anyone (dead or alive) who would that be and why?
My brother bcause I miss him!

13. What one thing do you know for sure?
I LOVE LIFE

14. What has our group (Charlotte Purls) changed about you?
I am little more out going!

15. What do you enjoy most about Charlotte Purls?
Everyone is very helpful!