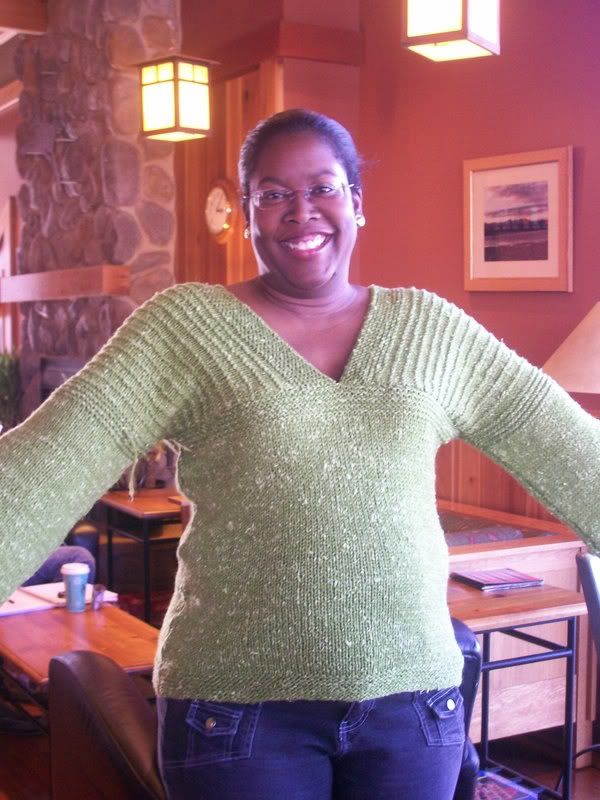 1. How did you hear about Charlotte Purls and when did you join?
I met Stacey at Charlotte Yarn. She was very friendly and invited me personally. I had been looking for a great group to join, and from my first visit it was a perfect fit. Everyone was so friendly and positive, totally different than my first experience with a knitting group – ie. more of the SnB variety. More B than S sometimes!

2. How long have you been knitting/crocheting and who taught you?
Crocheting forever – my mom taught me when I was very young. I've been knitting since 2005 when my son was in the hospital for surgery. I needed something to keep my hands busy – and have been a knitter ever since.

3. What is your favorite item(s) you like to knit/crochet that you could never get enough of doing?
Socks and shawls

4. Is there one thing you really have no desire to knit/crochet?
Skirts

5. How often during the week do you knit/crochet and when do you normally fit in time?
As much as I can – I work at home and am lucky to be able to knit when I'm on the phone in meetings. Keeps me focused and off email!

6. What is your favorite project to date that you knitted/crocheted?
Probably my circle vest – I love the yarn, colors and it was a fun project. Hmmmm – the color work tam and/or swallow tail is also close to the top.

7. At this moment, what is your future dream project you would like to knit/crochet?
One of the Victorian Lace Today projects – I can gaze at that book forever. They are so beautiful.

8. What one new knitting/crocheting thing do you want to learn in 2008?
"Real" Fair Isle

9. What are your "go to" knit/crochet book(s)?
Any stitch dictionary – I have many, Barbara Walker's my favorites probably. I love to just find a beautiful pattern and envision it in something totally unique. I also love all of EZs books, endless, endless inspiration. If I had no other books, I would have hers and would never be bored.

10. Other than knitting/crocheting are there any other hobbies or activities you enjoy doing?
Well, if you check my blog http://craftygirlz.blogspot.com (shameless plug) you will see our family has just started doing jigsaw puzzles as a family hobby. It's only been a week – but we are almost done with a 600+ pieces puzzle!!!!! And it is working, the kids and even hubby are getting sucked in as it starts to come into focus. I've been looking for a while for something we can do as a family – and even incorporate visitors to our home in for a few minutes. We like games in general – or maybe I like games and just push it on my family! I like things I can do with others – since at times my knitting is so solitary (and I need that too!)

11. Tell us, how would your close friends/family describe you?
Overcommitted, independent and stubborn – I have a few things to work on. J But also determined, loving, and a bit scatter-brained.

12. If you could have a full day to spend with anyone (dead or alive) who would that be and why?
Jesus – although I try to spend time with Him every day. I just think I would see the world with such totally different eyes than I do today. That's enough of my preaching for one day!

13. What one thing do you know for sure?
I am loved and awesomely blessed.

14. What has our group (Charlotte Purls) changed about you?
A little more willing to carve out some "me" time.

15. What do you enjoy most about Charlotte Purls?
All the great Charlotte Purls – of course. I've met so many great people – I've enjoyed getting know everyone and looking forward to meeting even more. It's so great to get out of my standard "social" circle – and meet people across the region and in so many interesting professions and backgrounds.