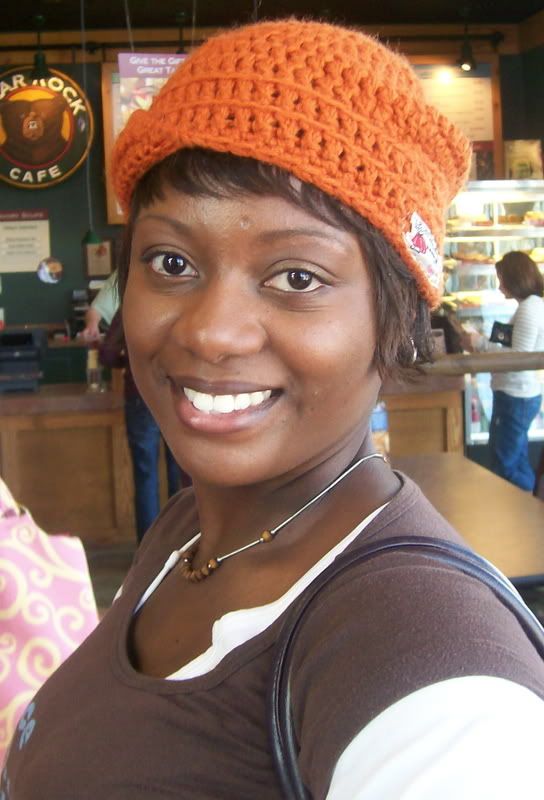 1. How did you hear about Charlotte Purls and when did you join?
I was sitting at the pool watching my neice and nephew swim when Stacey and another neighbor came to sit with me. Stacey noticed my crocheted change purse and invited me to come to the next meeting. That was last summer, July or August.

2. How long have you been knitting/crocheting and who taught you?
I have been crocheting since the 4th grade. My teacher Mrs. Klibenow kept me and a few other students at lunch and taught us how.

3. What is your favorite item(s) you like to knit/crochet that you could never get enough of doing?
I absolutely love to create handbags. I have already made quite a few and have sketched several more and of course that means buying more yarn. It's madness!!!! lol

4. Is there one thing you really have no desire to knit/crochet?
I keep looking at afghans, and then I look away. lol

5. How often during the week do you knit/crochet and when do you normally fit in time?
It varies. Every day/night if I could. Sometimes I'm crocheting at lunch. I crochet when I'm drying my hair under the hooded dryer. Most times I fit it in at bed time. It's so relaxing, I usually fall right out.

6. What is your favorite project to date that you knitted/crocheted?
My rectangled felted purse. I call it the Lynden's Signature "That's All" purse.

7. At this moment, what is your future dream project you would like to knit/crochet?
I saw a pattern to crochet sandles using twine. I started it several years ago and I haven't gotten back to it.

8. What one new knitting/crocheting thing do you want to learn in 2008?
I have been playing around with cable crochet. I would also like to learn free-form crochet and chain-free crochet.

9. What are your "go to" knit/crochet book(s)?
The Crochet Answer Book, The Crochet Stitch Bible.

10. Other than knitting/crocheting are there any other hobbies or activities you enjoy doing?
I sing in two choirs, new member of a bellydance troupe, I enjoy baking and traveling. I also love going on spa trips. I grab a few gal pals and try out different spas. Usually it's someone's birthday.

11. Tell us, how would your close friends/family describe you?
Silly, outgoing, spontaneous...the event planner.

12. If you could have a full day to spend with anyone (dead or alive) who would that be and why?
If I could sit at Jesus' feet like Mary...Whoo!

13. What one thing do you know for sure?
If you can change your situation then why worry, and if you can't change your situation, then why worry?

14. What has our group (Charlotte Purls) changed about you?
I can't say that it changed me but it added to me. It added new friends, fellowship and a way to share with others. It's an opportunity to not think about me but to share myself with others while absorbing the creativity that everyone else brings forth.

15. What do you enjoy most about Charlotte Purls?
It's two solid hours that I can really get a project done while people are talking to me! YES!