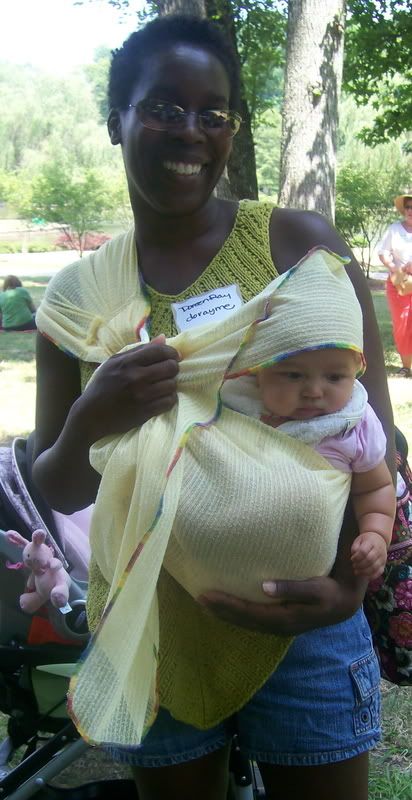 1. How did you hear about Charlotte Purls and when did you join?

I first learned about the Purls from my sister Janet in the fall of 2007. I first attended in January 2008 with Zuri, my daughter, and we have pretty much come ever since.
2. How long have you been knitting/crocheting and who taught you?
My mother taught me how to crochet when I was around 7 along with many other crafty persuits in the mid 70's. I dabbled at trying to learn how to knit on and off but didn't really get the hang of it until 2003 when I madly wanted to knit diaper soakers for my 2nd son Mardie. I got a few books, The Knit Stitch by Sally Melleville, and S-N-B as well as met and sat with Yvonne at AC Moore a few times. I miraculously got it and was off. . . knitting twisted stitches that is. After about a year of twisted projects Janet informed me of my error. I denyed it. But the truth was that I was knitting twisted stitches. It just took me my current project at the time to correct it. Now I can easily switch back and forth depending on what my pattern calls for.
3. What is your favorite item(s) you like to knit/crochet that you could never get enough of doing?
I really love to knit medium sized projects with endless stockinette. I know that sounds kind of simplistic, but it's mindless and rhythmic and feels good. So I guess socks and sweaters.
4. Is there one thing you really have no desire to knit/crochet?
Well I thought it was lace, but I'm working on a Nursing Shawl and the Hemlock Ring and they are not too bad. . . so right now I really can't say there's anything other than maybe tights for me in sock weight yarn. But once I got underway I could even see that being a rewarding project. I would love to wear hand knit tights. off to find a pattern to queue into Ravelry.
5. How often during the week do you knit/crochet and when do you normally fit in time?
I would love to say that I knit daily, but that's not possible in my current lifestyle/situation. I try to knit 2 times a week at minimum, Tuesday nights and Thursday nights. I keep a portable project close and try to have that around when running errands but my preschool aged kids still need a lot of "me" when we are running errands so not watching them in order to knit is asking for something bad to happen.
6. What is your favorite project to date that you knitted/crocheted?
I love all of my socks. I use them the most, love wearing them, and enjoyed knitting them.
7. At this moment, what is your future dream project you would like to knit/crochet?
I have visions of some cute outfits and toys for Zuri. I want to make a patchwork blanket with sock yarn like koigu, but am not sure I want to do the mitered squares. I like tesselating patterns so I'm leaning towards fish, but honestly I haven't decided.
8. What one new knitting/crocheting thing do you want to learn in 2008?
I just got my 2nd knitting machine. I sold the first one when I was frustrated that I couldn't keep it out with the kids. Since that time a craft room has fixed that problem. I want to learn how to better use it and make a few projects on it. I also want to learn how to prepare fiber, expand my dying skills and spin it into pretty yarn. I got a wheel and just the little spinning I have done has been incredibly fun and rewarding. I also want to complete my lace projects and do at least 2 projects with colorwork of some sort.
9. What are your "go to" knit/crochet book(s)?
Well I love books of all kinds so that love would naturaly spill over to knitting. My go to books for instruction are Sally Melleville's series, and Super Stitches Knitting. Most of my books are lovely to look at though so I often just pour through them for ideas on color, design elements, style, etc.
10. Other than knitting/crocheting are there any other hobbies or activities you enjoy doing?
I guess I can say spinning though I consider it to be related. I'm a bit of a gadget freak so I love unique tools and implements.
11. Tell us, how would your close friends/family describe you?
different, loyal, contrarian
12. If you could have a full day to spend with anyone (dead or alive) who would that be and why?
I would say Jesus. He means so much to me, he is so amazing, there's no way I could understand him, but I would love to just bask in his presence and let the experience blow my mind.

13. What one thing do you know for sure?
I've got a lot of learning to do.
14. What has our group (Charlotte Purls) changed about you?
Purls has made knitting more social for me. I have a small group of crafty friends but all of us don't share knitting. I think I love to knit the most of all of my crafty persuits. It's nice to share that commonality with friends.
15. What do you enjoy most about Charlotte Purls?
You guys are a wonderful bunch. I always feel welcome, helped, enriched, smiled upon, and loved when I come. I appreciate the lack of drama that often permeates groups of people. Purls is a group that is posative in action and in word. I'm proud to be one.