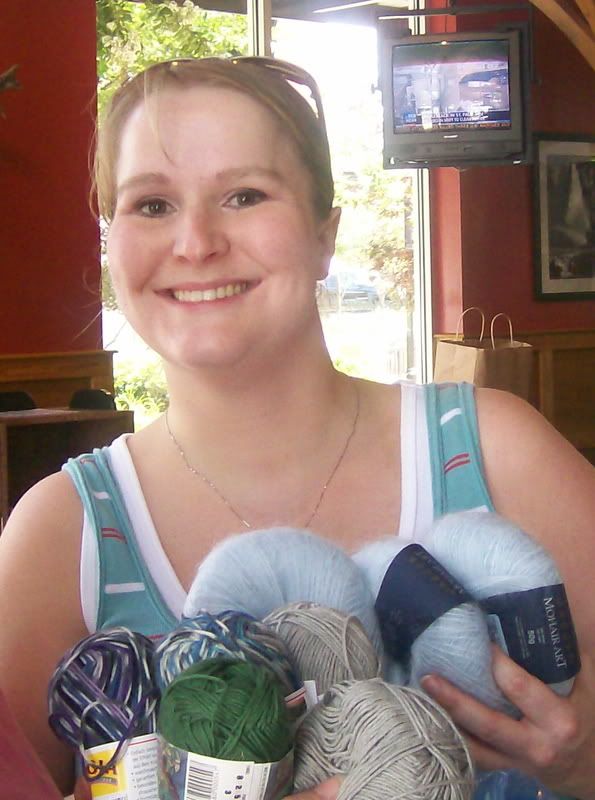 1. How did you hear about Charlotte Purls and when did you join?
My sister found the group on ravelry before I was a member.

2. How long have you been knitting/crocheting and who taught you?
I have been knitting for almost 4 years and I began by taking a knitting class at JoAnn's.

3. What is your favorite item(s) you like to knit/crochet that you could never get enough of doing?
I love making hats because they are so quick and absoultely cute. I love the instant gratification!

4. Is there one thing you really have no desire to knit/crochet?
SOCKS!

5. How often during the week do you knit/crochet and when do you normally fit in time?
I probably knit 4 to 5 days a week usually at night when I am watching tv. However, my new favorite thing is to listen to an audiobook while knitting.

6. What is your favorite project to date that you knitted/crocheted?
Angora baby booties...They are absolutely adorable.

7. At this moment, what is your future dream project you would like to knit/crochet?
Hmm... This is hard because I have been trying a lot of my dream projects. I would say a lace blanket maybe the Hemlock since I have been meaning to start it since the KAL.

8. What one new knitting/crocheting thing do you want to learn in 2009?
To read a chart... still working on it.

9. What are your "go to" knit/crochet book(s)?
The Stitch n' Bitch books

10. Other than knitting/crocheting are there any other hobbies or activities you enjoy doing?
I love to volunteer for Habitat for Humanity, reading, and traveling.

11. Tell us, how would your close friends/family describe you?
Absolutely fabulous!!! Hahaha. Scarcastic and sweet.

12. If you could have a full day to spend with anyone (dead or alive) who would that be and why?
My grandmother who died when I was in third grade. I have been thinking about her a lot lately for some reason.

13. What one thing do you know for sure?
I don't know it all and that's okay.

14. What has our group (Charlotte Purls) changed about you?
I have expanded my range of projects and I am trying more difficult patterns because of projects that everyone else knits.

15. What do you enjoy most about Charlotte Purls?
I love the people.