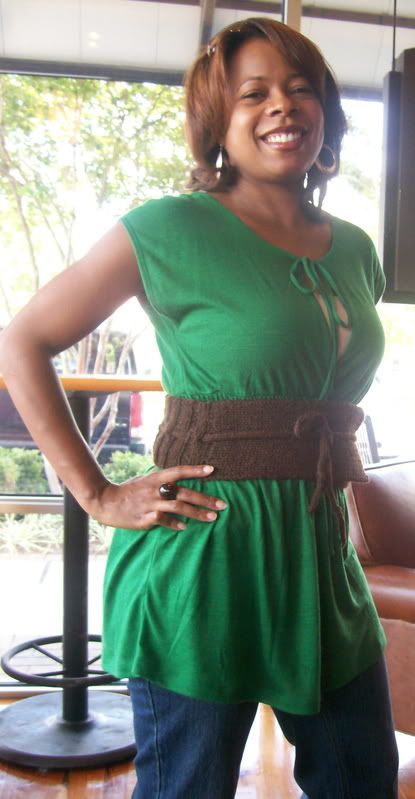 1. How did you hear about Charlotte Purls and when did you join?
Back in December of 2006 I wanted to start a new hobby and decided on Knitting. At that time I did not know any other knitters to help or show me how to even start. The wonderful world of the internet was my first teacher. After several weeks I decided that I needed some one on one assistance and found that the local Michael's in my area offer classes for $15. (Paying $15 got really old really quick.) I started looking for knitting clubs online and found a website called meetups.com. While I was searching for local clubs and meet ups I ran across Stacey's profile. Other clubs I found were too far and was not convenient but the Charlotte Purls was perfect due to the location. I emailed Stacey and asked if they were excepting new members and she welcomed me with open arms. I have been a member of Charlotte Purls since March of 2007.

2. How long have you been knitting/crocheting and who taught you?
My knitting birthday is December 2006. A little over a year now.

3. What is your favorite item(s) you like to knit/crochet that you could never get enough of doing?
My favorite items to knit are bags and anything that have a level of beginner.

4. Is there one thing you really have no desire to knit/crochet?
Can't say there is anything that I have no desire to learn.

5. How often during the week do you knit/crochet and when do you normally fit in time?
I try to squeeze in knitting about 2 to 3 times a week. Mostly on the weekend.

6. What is your favorite project to date that you knitted/crocheted?
My favorite project so far to date would be Kaino. Kaino is long cardigan vest that took me forever to finish.

7. At this moment, what is your future dream project you would like to knit/crochet?
My future dream project is to learn how to knit socks. Have the yarn just haven't started.

8. What one new knitting/crocheting thing do you want to learn in 2008?
Socks and a little lace.

9. What are your "go to" knit/crochet book(s)?
Knitting for Dummies

10. Other than knitting/crocheting are there any other hobbies or activities you enjoy doing?
Going to the movies and going out to eat with my friends

11. Tell us, how would your close friends/family describe you?
Caring, giving, and loving

12. If you could have a full day to spend with anyone (dead or alive) who would that be and why?
If I could have a full day to spend with anyone I would say Oprah. She seems to be full of knowledge and wisdom. Oprah is one of my role models that I would love to one day to be able to meet her.

13. What one thing do you know for sure?
The one thing I know for sure is think positive and positive things will come to you. I am a believer of you are what you think.

14. What has our group (Charlotte Purls) changed about you?
I do not think the group has changed me, but it has broadened my group of friends. I enjoy seeing and talking to each person in the group.

15. What do you enjoy most about Charlotte Purls?
What I enjoy most about Charlotte Purls is getting together with my fellow knitters. Everyone in the group give me new ideas on what I can possible knit and what I can do with a little more practice. I look forward to each meeting even if I do not get much knitting done.