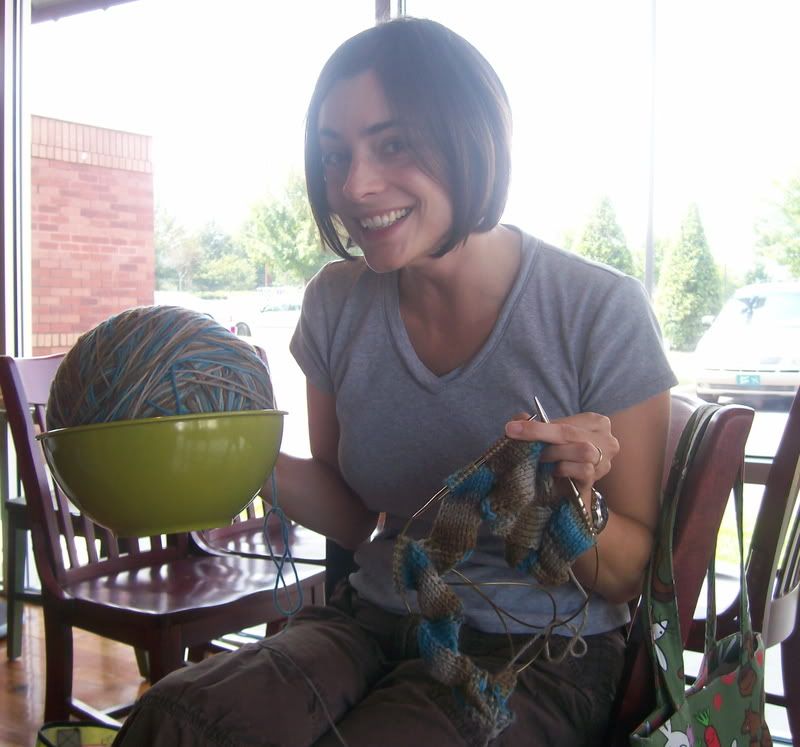 1. How did you hear about Charlotte Purls and when did you join?
I'm yet another person who heard about the Purls from Ravelry. I believe I started attending around September 2007, but I am not exactly sure.
2. How long have you been knitting/crocheting and who taught you?
I've been knitting since 2003, if I remember correctly. I taught myself, by printing out written instructions from some yarn company's website. This is probably why I do some things a little bit oddly. The first thing I ever knit was a scarf, and I didn't know that I was supposed to turn my work (they left that out of the instructions), so I just knit back and forth, right to left and then left to right, without ever turning it over. I was so relieved when I found out that it is not supposed to be that hard! Soon after, I discovered
http://www.knittinghelp.com/
, which was the biggest help ever in terms of learning how to read patterns and how to do various stitches.
3. What is your favorite item(s) you like to knit/crochet that you could never get enough of doing?
I really love knitting with two colors, especially designing my own patterns. Hats are my favorite for colorwork, because they provide quick gratification, they are satisfying to knit, and you end up with a useful finished product.
4. Is there one thing you really have no desire to knit/crochet?
I have a pair of socks sitting here that I started about 4 years ago and never finished. I have no desire to finish that pair of socks. They are my secret shame.
5. How often during the week do you knit/crochet and when do you normally fit in time?
It depends. Most of the time, I knit for a little while almost every night, because it helps me wind down to go to bed. Lately I've been working on things other than knitting in the evenings, but in the last week or so I've gotten back to my old knitting schedule. I generally knit while I'm watching tv or something.
6. What is your favorite project to date that you knitted/crocheted?
I have several favorites, but the projects I've worn the most often this winter are the fingerless mitts from our knitalong and a scarf I made a couple of years ago.
7. At this moment, what is your future dream project you would like to knit/crochet?
I dream of knitting an intricately cabled fisherman's sweater. If I ever actually do it I will feel like I've become a "real" knitter.
8. What one new knitting/crocheting thing do you want to learn in 2008?
If you had asked me this two months ago I would have said cables. But recently I've been working on the gathered pullover, which has a cable, and now I feel stupid for not doing them before. So now I guess my answer is that I would like to continue practicing cables.
9. What are your "go to" knit/crochet book(s)?
The Barbara Walker books. I love to look through her stitch patterns and put together my own combinations, especially for scarves and shawls.
10. Other than knitting/crocheting are there any other hobbies or activities you enjoy doing?
Spinning, dyeing yarn, fiber, and silk, making jewelry, bellydancing, going to the dog park, gardening, and lately I've been trying to learn to sew.
11. Tell us, how would your close friends/family describe you?
I am scared to ask them.
12. If you could have a full day to spend with anyone (dead or alive) who would that be and why?
Dead: I can't decide, because I have two friends, two grandparents, and two pets who have died in the past few years who I would give anything to spend a day with.
Alive: Barack Obama.
13. What one thing do you know for sure?
That there's a lot I do not know.
14. What has our group (Charlotte Purls) changed about you?
I just moved to Charlotte recently, and the Charlotte Purls have given me an opportunity to meet people and spend time around a great group of women. Stacey also recommended bellydancing, which has also been a wonderful way to meet people and a lot of fun, too. So basically I went from spending the last year in Concord doing nothing and knowing no one outside of work, to having such a full social schedule that I sometimes have to choose one activity over the other! I am very grateful for that, because I'm a much happier person because of it.
15. What do you enjoy most about Charlotte Purls?
See number 14!