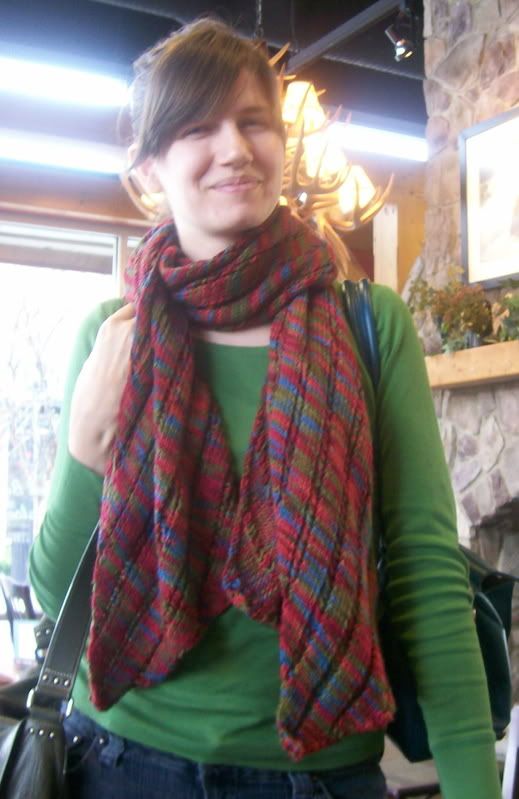 1. How did you hear about Charlotte Purls and when did you join?
I heard about the group on Ravelry (woo!) and came to my first meeting last fall--maybe in September??

2. How long have you been knitting/crocheting and who taught you?
I first learned to knit when I was 5 or 6, but I really started getting serious about ten years ago. My grandmother taught me the basics, and then I picked up the rest from books (with help from my mom). I learned to crochet from a woman I met at an LYS in San Francisco about six years ago, but I'm still not very good.

3. What is your favorite item(s) you like to knit/crochet that you could never get enough of doing?
I love making baby clothes--so little, so cute, and so fast to make! I let my friends provide the babies, though.

4. Is there one thing you really have no desire to knit/crochet?
Heh--I have the worst Startitis of anyone I know, so anything I say here I'll end up wanting to knit in a few days. I'll say that I'm not that interested in knitting dresses or skirts, but I reserve the right to cast one on tomorrow. :)

5. How often during the week do you knit/crochet and when do you normally fit in time?
I usually knit in the evenings, while watching TV or reading. If I have a project I really need to finish, I'll bring it to work and knit at lunch. I used to knit on the bus, but I can't stand spending almost two hours (each way!) to commute any more.

6. What is your favorite project to date that you knitted/crocheted?
Maybe the Hemlock Ring blanket? Because it was a little challenging for me, but not at all hard once I got started, and I loved the final result.

7. At this moment, what is your future dream project you would like to knit/crochet?
I'd love to make a Clapotis out of the original yarn (Lorna's Laces Lion & Lamb) but I just can't bring myself to spend the $$.

8. What one new knitting/crocheting thing do you want to learn in 2008?
How to make something non-rectangular on my knitting machine.

9. What are your "go to" knit/crochet book(s)?
I use Ann Budd's Handy Book of Patterns all the time for basic proportions.

10. Other than knitting/crocheting are there any other hobbies or activities you enjoy doing?
I love to read. I used to sew and embroider, but knitting has taken up most of my crafting time.

11. Tell us, how would your close friends/family describe you?
A very good teammate in Trivial Pursuit.

12. If you could have a full day to spend with anyone (dead or alive) who would that be and why?
My grandparents--I don't get to see my grandmother as often as I'd like, and my grandfather passed away seven years ago and I miss him.

13. What one thing do you know for sure?
Ok, this question is much too tempting for a philosophy major!

14. What has our group (Charlotte Purls) changed about you?
I love having a group of people who share my love of crafty things--knitting was always relatively solitary for me before this.

15. What do you enjoy most about Charlotte Purls?
When I can actually make it to meetings!!