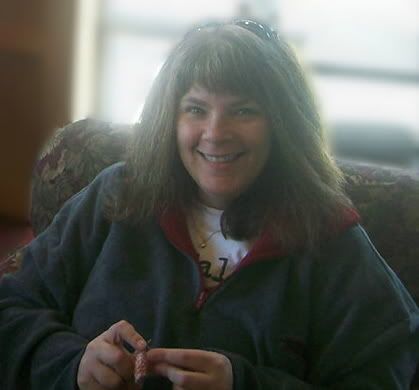 1. How did you hear about Charlotte Purls and when did you join?
I dont even remember where I found Stacey's email address originally, but Im glad I did!! I do know she was PATIENT with me while I was moving and settling in and working crazy hours before I was able to FINALLY make my 1st meeting - about 6 months ago maybe?

2. How long have you been knitting/crocheting and who taught you?
My Gram taught me when I was way young, but it didn't stick much beyond some doll blankets and lopsided squares. Then right after my mom passed away in 2004, I was gripped by a NEED to knit - I guess I needed an outlet and knew instinctively knitting was the way to go!

3. What is your favorite item(s) you like to knit/crochet that you could never get enough of doing?
I love socks! I also find myself circling back to the basics like felted bags when I'm in need of a "comfort knit'. And baby items since they are small, portable, adorable fast knits. And....

4. Is there one thing you really have no desire to knit/crochet?
toilet paper cozies?

5. How often during the week do you knit/crochet and when do you normally fit in time?
Whenever I can! Some weeks are better than others, but I try not to let too much time go between picking up the needles for a fix.

6. What is your favorite project to date that you knitted/crocheted?
I made a vintage bubble bag as a swap gift - came out exactly the way I wanted it to. Havent been able to replicate it yet. I also love the Peace Fleece vest I made my dad for fathers day the 1st year I was knitting.

7. At this moment, what is your future dream project you would like to knit/crochet?
Whatever I tell you now will change in 10 minutes anyway ;-) I want to keep learning new techiques and better ways to do old ones, so I guess my answer has to be whatever will keep me growing and improving as a knitter.

8. What one new knitting/crocheting thing do you want to learn in 2008?
Way more than one, but as I type this, I am less than a week away from a double knitting class with Aimee and a Fair Isle class with Jane - YAY!!!

9. What are your "go to" knit/crochet book(s)?
I love my book collection but to be honest when I am having trouble with something or need some inpsiration, I will look to Ravelry or other online sources, then my books. And of course, ANYTHING by EZ ;-)

10. Other than knitting/crocheting are there any other hobbies or activities you enjoy doing?
I love to read, to cook, and as geeky as this sounds, I really enjoy web design (when its for pleasure, not work). I want to learn to sew, eventually too. And spin. And weave! (and win the lottery so I can persue all these hobbies!!)

11. Tell us, how would your close friends/family describe you?
I've been told I am honest (sometimes painfully so), loving, loyal to a fault, and nurturing. I pay them well to say nice things ;-) (Thank you for not asking me to describe myself!)

12. If you could have a full day to spend with anyone (dead or alive) who would that be and why?
Only one? There are so many people, both living and passed that I would love to spend a day with. So much history, so many different perspectives! This question has been gnawing at me since I saw the 1st Purl profile, and I'm sorry to say I have to pass this one as my list is way too long

13. What one thing do you know for sure?
Life is too short and is full of unexpected twists, so living every minute, and letting the people who matter know it need to be high priority.

14. What has our group (Charlotte Purls) changed about you?
My life has certainly been enriched by the friendships that have blossomed!

15. What do you enjoy most about Charlotte Purls?
Being with people who "get" me, who understand my fibery loves, knowing that while we come from different life experiences, we still have created a wonderful circle of friends.