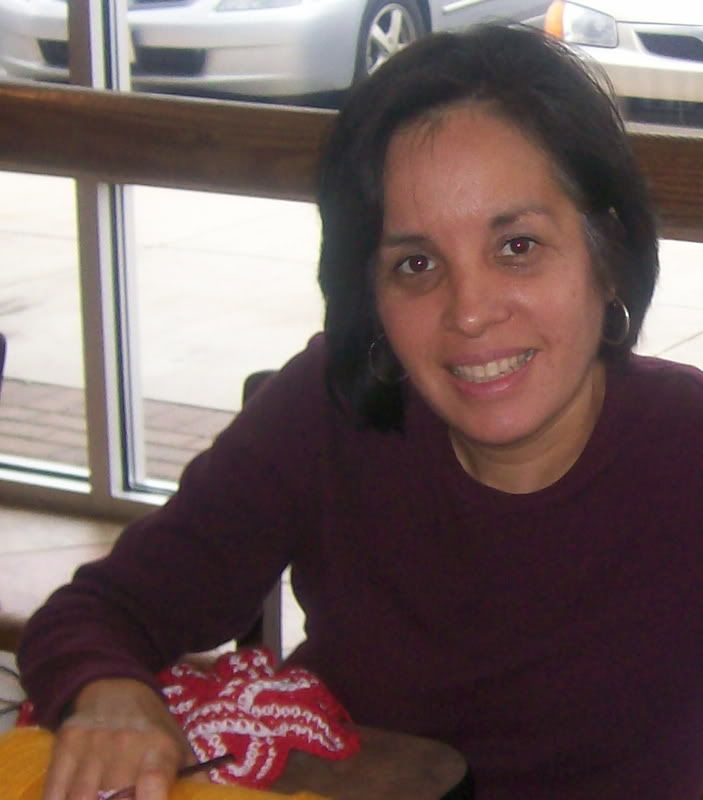 1. How did you hear about Charlotte Purls and when did you join?
I first heard about Charlotte Purls from Connie. I met her at the Mint Hill Library and she shared with me about all the fun she was having. I started comingto the meetings on October of 2007.

2. How long have you been knitting/crocheting and who taught you?
The first time I came in contact with knitting needles was around the age of 18 while I was living in Buenos Aires, Argentina. A girl whom I met in an InteriorDecorating class taught me. Back then I remember I only completed one project (a sweater with cables). That was a long time ago...wow more than 30 years ago. Then around 5 years ago, I can't remember the exact date the Branch Manager at thelibrary I worked made knitted dishcloths for all my co-workers. I decided I wanted make some myself and so I began to knit again. As far as crochet, I have taught myself from books. I would say I have been crocheting for about 2 years.

3. What is your favorite item(s) you like to knit/crochet that you could never get enough of doing?
I love to knit baby booties, scarves and baby sweaters. I have recently fallen inlove with crochet amigurumis. Amigurumi is the japanese word for small stuffed crochettoy.

4. Is there one thing you really have no desire to knit/crochet?
I would like to crochet or knit just about everything for the learning experience,but I had a bad experience knitting a baby sweater with a shawl collar. I avoid projectsthat have them.

5. How often during the week do you knit/crochet and when do you normally fit in time?
I knit or crochet at work during my two breaks and after I eat lunch (about 30 minutes). I also knit when I come back from work while I watch my spanish soaps. I knit pretty much every day.

6. What is your favorite project to date that you knitted/crocheted?
I have thoroughly enjoyed crocheting my amigurumis because of how quick they havebeen completed.

7. At this moment, what is your future dream project you would like to knit/crochet?
I am currently working on a crochet tablecloth featured in the book Vintage Crochet bySusan Cropper and I can't wait to put it together.

8. What one new knitting/crocheting thing do you want to learn in 2008?
I would love to be able to make the "Betty" Shrug also featured in Vintage Crochet.

9. What are your "go to" knit/crochet book(s)?
I have found very helpful The Crochet Answer Book by Edie Eckman. For knitting I likethe Knitter's Book of Finishing Techniques by Nancie M. Wiseman and the Big Book of Knitting by Katharina Buss.

10. Other than knitting/crocheting are there any other hobbies or activities you enjoy doing?
I like to make hand stamped greeting cards, baking, gardening and photography.I also enjoy very much playing with my two grandchildren Caleb and Taite.

11. Tell us, how would your close friends/family describe you?
I'm not sure how to answer this one but I think they see me as someone calm, quiet, interested in spiritual matters.

12. If you could have a full day to spend with anyone (dead or alive) who would that be and why?
I would love to be able to spend time more time with any member of my family who is away from me right now. All my family lives in Panama City in Panama. I also longto be reunited soon with my son who is in the service living in Aviano, Italy.

13. What one thing do you know for sure?
I know for sure that God is in control of my life and He alone gives me the strengthto face every day. I'm blessed that the Lord is in my life to lead and protect.

14. What has our group (Charlotte Purls) changed about you?
I don't think the Purls group has changed me in any way.

15. What do you enjoy most about Charlotte Purls?
I like meeting new people who share my love for knitting and crochet. When I am stuck with a pattern I know I can count on someone to help me.