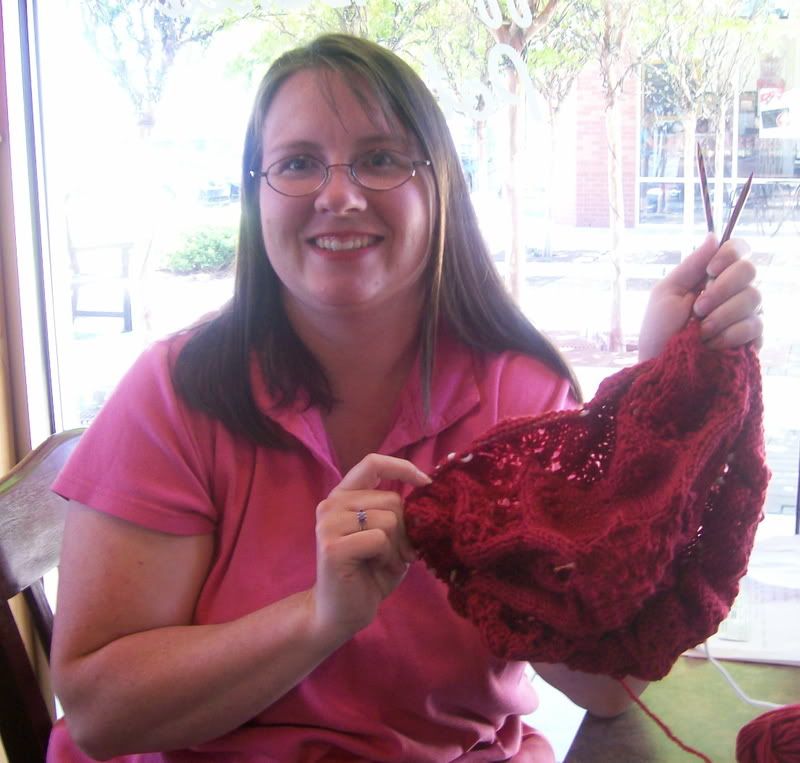 1. How did you hear about Charlotte Purls and when did you join?
I heard about the Charlotte Purls from Stacey over at Knittinghelp.com. I'm not sure when I first heard of them.
I do remember checking out her blog and book marking it and then secretly 'stalking' her.
But it wasn't until I was on Ravelry that I finally made the leap to check out the group. I believe it was just before Thanksgiving of 2007.

2. How long have you been knitting/crocheting and who taught you?
I've been knitting for 2.5 yrs. My husband, Steven, taught me to knit. he he I couldn't for the life of me get the cast on right. So I had him learn (via knittinghelp.com) and then teach me.
Sadly he hasn't picked up the needles in months. He has made some hats and scarves.

3. What is your favorite item(s) you like to knit/crochet that you could never get enough of doing?
Right now my 'passion' is socks. After that first pair I am hooked. I have bought so much sock yarn it's not funny.

4. Is there one thing you really have no desire to knit/crochet?
Lace. I really have no need for any lacey items. Unless to make as a gift, but I don't see that happening.

5. How often during the week do you knit/crochet and when do you normally fit in time?
I try to knit daily. I have a project in my purse at all times so when I have a few minutes to do a row I will. Most of my knitting is done at night while we all watch Wheel of Fortune.

6. What is your favorite project to date that you knitted/crocheted?
I'm really proud of my first pair of socks. I only wish I could find more of that yarn. I haven't really looked hard for more as I'm sure I could find some somewhere.

7. At this moment, what is your future dream project you would like to knit/crochet?
I really want to do the Hemlock blanket. I also have my eye on the Darling sweater for Kayla and Samantha. And of course doing color changes without knots.

8. What one new knitting/crocheting thing do you want to learn in 2008?
My original goal was Socks in '08, but now it's cables. I have tried them, but it didn't work out.

9. What are your "go to" knit/crochet book(s)?
Stitch 'N Bitch and the Knitters Bible. I would love me some Itty Bitty books.

10. Other than knitting/crocheting are there any other hobbies or activities you enjoy doing?
I like to scrapbook. I haven't done much lately. I love anything DISNEY. I am planning a trip for December '08. I also love bowling.

11. Tell us, how would your close friends/family describe you?
That I'm always looking for/and getting a fantastic 'deal'.

12. If you could have a full day to spend with anyone (dead or alive) who would that be and why?
After thinking long and hard, I had thought my Grandmother who died when I was little, but then thought of Martha Stewart.
Why? I'd like to see if actually does all the 'stuff' she claims to do in a days time.

13. What one thing do you know for sure?
I know that I will always have the love of my husband and kids, no matter how crazy I am.

14. What has our group (Charlotte Purls) changed about you?
It has made me more adventurous in my knitting. I don't think I would have tried socks if I didn't have people to 'go to' for help.
I know that I can ask any question and not feel like a total idiot and get the help I need.

15. What do you enjoy most about Charlotte Purls?
Oh I love the fellowship. There are so many helpful and knowledgeable ladies.