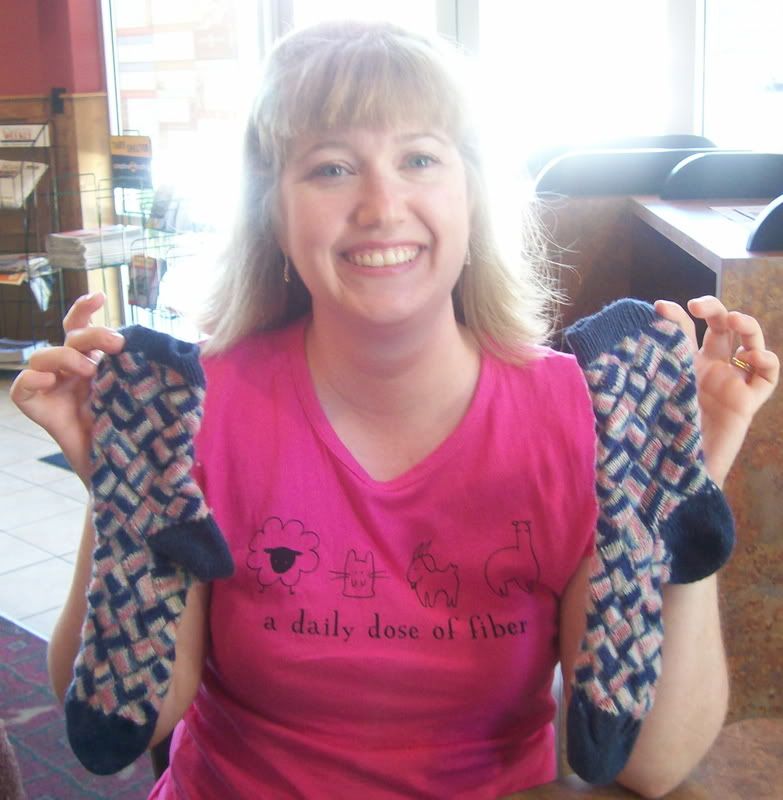 1. How did you hear about Charlotte Purls and when did you join?
I heard about the Purls through Ravelry! I started coming to meetings in January 2008.

2. How long have you been knitting/crocheting and who taught you?
I've been crocheting since I was about 12 - my mom and grandma taught me. I learned to knit about 5 years ago- I took a class at Needles in Concord for a few weeks. It was much easier to learn than it looked!

3. What is your favorite item(s) you like to knit/crochet that you could never get enough of doing?
I love, love, love knitting socks! I have so much sock yarn now that I should be set for months and months (but that still doesn't stop me from buying more if I see a color I like! Sock yarn doesn't count as stash, right?!)

4. Is there one thing you really have no desire to knit/crochet?
I don't know - I think I'd try anything - although I don't see much need for toilet paper roll covers. ;-)

5. How often during the week do you knit/crochet and when do you normally fit in time?
I knit every day. I usually knit in the evenings after the kids have gone to bed, but sometimes I can work in some knitting time during the day, too.

6. What is your favorite project to date that you knitted/crocheted?
I think my favorite project that I've done so far is the beaded wedding purse that I made for my brother's wife as a wedding day gift. It took me forever to knit (on 0000 needles!), and used over 50,000 beads! (Now I kinda wish I had kept it for myself, but that's a long and upsetting story!)

7. At this moment, what is your future dream project you would like to knit/crochet?
I would love to knit the Autumn Rose pullover by Eunny Jang. I just have to work up the nerve to attempt it (and find the right yarns, and find the time...)

8. What one new knitting/crocheting thing do you want to learn in 2008?
I want to learn to knit backwards - I've given it a try, but I need more practice, since it takes me 10 times as long to knit backwards as it does to just turn my work and knit normally. In 2008 so far I've already learned entrelac, and magic loop, and toe-up socks!

9. What are your "go to" knit/crochet book(s)?
Well, I have several (I'm amassing quite a knitting library for my progress through the Master Knitter program), but two that I go to often are The Knitter's Companion from Interweave Press and The Knitter's Handbook from Knitter's Magazine/XRX.

10. Other than knitting/crocheting are there any other hobbies or activities you enjoy doing?
I'm an avid reader - I particularly love sci-fi and fantasy novels, but I read a wide range of genres. I've been cross-stitching since I was 15 - and my knitting stash has only just recently surpassed my cross-stitch stash, which was quite a feat! I hope to pick cross-stitch back up once there's no risk of the boys monkeying with the tiny needles, but I'm afraid knitting might be too addicting for that to happen anytime soon! I love camping and hiking too - we have a pop-up camper and we try to go camping as often as we can from Spring to late Fall. I like doing digital scrapbooking, as well, although I hardly ever get a chance to work on it, what with all the knitting to be done!

11. Tell us, how would your close friends/family describe you?
Hmm. I don't know... I guess they'd say I'm a shy and reserved gal, but once I get to know people I open up. Sometimes I'm a perfectionist (but that's diminished some since I had kids! Because, let's face it, a clean house and happy kids do not co-exist!). They'd say I'm an optimist, too. :-)

12. If you could have a full day to spend with anyone (dead or alive) who would that be and why?
Gee, that's a tough one. I'd really like to meet and spend a day with the Dalai Lama. He's a very inspiring individual - I think, deep down, I'm a Buddhist.

13. What one thing do you know for sure?
I know that life is only as good as you make it. And I know that soul-mates do exist. (Wait... that's two things, oh, drat!)

14. What has our group (Charlotte Purls) changed about you?
I wouldn't say I've changed, per-se, but I enjoy knitting much more - it's so much more enjoyable when you have someone to share the experience with (and although hubby loves me and tries to understand, sometimes he just doesn't get it, ya know?). Plus, the Purls are a wonderful group of people, and I could see myself developing some meaningful friendships within this group (and it's so tough to make new friends being a shy, reserved, stay-at-home mom!)

15. What do you enjoy most about Charlotte Purls?
Seeing what everyone else is working on, seeing and touching new yarns, the support and encouragement of fellow knitters, the great conversations, the wonderful people!