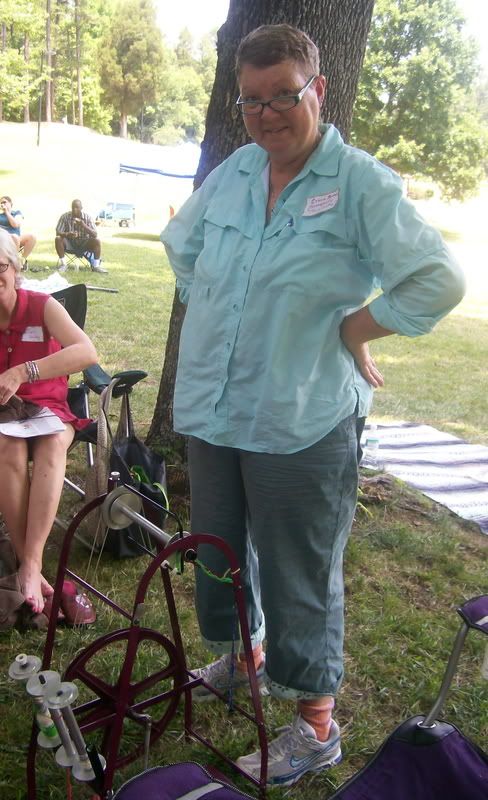 1. How did you hear about Charlotte Purls and when did you join?
I heard about the Purls from both Randal Carter and Stacey...Stacey invited me to come when we had the WWKIP day at Freedom Park, April? of '08 and Randal had mentioned it to me over coffee one morning some time before that...it took Stacey's spirit to give me the push to overcome my "I don't know anyone there" issues and actually show up for a Saturday at Bear Rock Cafe...and the rest is history

2. How long have you been knitting/crocheting and who taught you?
I learned to knit when I was in seventh grade and we had to join an activity club in our "free period"...that's 50 years ago!!! My Mom was a knitter and my Grandmother crocheted so they both kept me going along the fiber path until I left home.

3. What is your favorite item(s) you like to knit/crochet that you could never get enough of doing?
hmmm...good question, there isn't much I haven't tried over the years, but the most recent obsession has been trying the different socks from Cat Bhordi's newest book, New Pathways...and I started a new pair just this afternoon. And I'm excited about doing our new KAL, a lace shawl!

4. Is there one thing you really have no desire to knit/crochet?
don't ask me why, but sideways knit sweaters have no appeal to me at all...and neither do the really ornate intarsia designs...too busy.

5. How often during the week do you knit/crochet and when do you normally fit in time?
I knit just about daily and when the weather is not fit for gardening and I can get away with it, I'll ignore the dishes and laundry so I can sit and knit until my butt falls off while I watch all-day marathons of NCIS, Monk, CSI, Burn Notice...like today!!!

6. What is your favorite project to date that you knitted/crocheted?
That would have to be the socks I knit in Noro's Kureyon Sockyarn as a shop model for Cindy Amann at the Peace of Yarn. She gave me a skein of Kureyon sock yarn of my choosing in return...I love that yarn!!!

7. At this moment, what is your future dream project you would like to knit/crochet?
The Charlotte's Web shawl from A Painter's Palette...after seeing the one Christy made I just have to do it too!!! I'm going to use two skeins of the Kureyon sock yarn instead of the K....however you spell it/pronounce it, which is way too expensive for my budget.

8. What one new knitting/crocheting thing do you want to learn in 2009?
Each of the sock methods in Cat Bhordi's book...and be able to do them without having to follow the book, flipping pages, trying to remember how to execute each of her totally cool new way of doing things.

9. What are your "go to" knit/crochet book(s)?
I couldn't even begin to say. I have so many books, more than my knitting bookcase can hold...and it depends on what I'm hooked on at the moment. Cat Bhordi's book is with me all the time right now, but that's just because I'm doing socks again. Quite often I'll have an issue of Interweave Knits with me because they inspire me to try new patterns...or give me the basic pattern for something I'm making several versions of, like the Subway Mittens.

10. Other than knitting/crocheting are there any other hobbies or activities you enjoy doing?
I'm known as the Gardening Queen, the Mulch Lady, Plant Lady...both at our school, Carolina International School (a public charter school out in Harrisburg) and at UNC-Charlotte where I work in the Susie Harwood Botanical Garden. And I wonder why my house is always a disaster zone in the spring, summer and fall...if the weather is good the house is not where I am.

11. Tell us, how would your close friends/family describe you?
My son says I have my own unique approach to the world and that it sure shows up in my knitting...I am well-loved by my family and friends and they treasure my funky approach to living...so I'd guess they'd describe me as a very funky and unique person who never fails to surprise them with new ideas.

12. If you could have a full day to spend with anyone (dead or alive) who would that be and why?
Jimmy Carter...he inspires me to be all that I can be, to be try to always be kind, loving and caring, as well as strong in my beliefs.

13. What one thing do you know for sure?
That the sun will come up in the morning somewhere, even if I can't see it, and that life is good.

14. What has our group (Charlotte Purls) changed about you?
You all have brought the joy of knitting as part of a group back into my life, given me the courage to believe that not all in the world of knitting is emptiness, that there are other knitters out here who share my gleeful approach to the unending use of fiber in its many forms. You've also helped me create a new and larger circle of friends and when I have to miss a Saturday with you'all it really ticks me off! And that's okay too...just makes me more eager to be there the next time....YOU ALL ROCK!!!!

15. What do you enjoy most about Charlotte Purls?
All of the wild, wonderful, funny, caring knitters and crocheters who show up at the Rock...each and everyone of you are special in your very own way, worth knowing and spending time with...yeah, I can get smaltzy at times too...so deal.