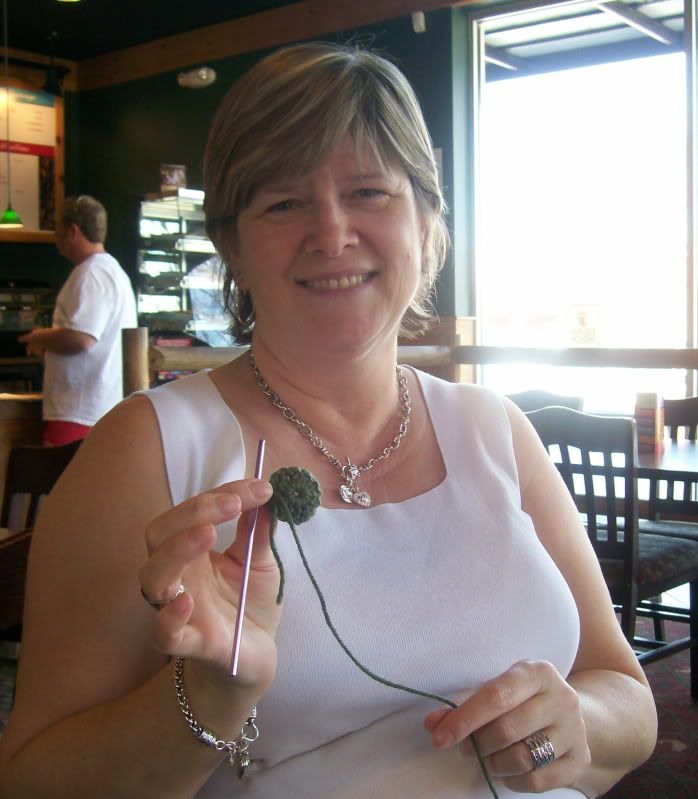 1. How did you hear about Charlotte Purls and when did you join?
I found and joined the Purls back in October '08 after searching on Ravelry for a knitting group in this area. I don't think I attended until November, though.
2. How long have you been knitting/crocheting and who taught you?
I think my mom taught me to knit back when I was about 10 yrs old, but I never got past the basics until this past fall. I don't remember how I learned to crochet; my mom doesn't do it, but I learned back around the same time, at about 10 yrs old. I've been crocheting ever since, so I guess that's almost 40 yrs. Now the internet is my primary teacher. Thank goodness for Youtube!
3. What is your favorite item(s) you like to knit/crochet that you could never get enough of doing?
Well, I'm addicted to Noro striped scarves right now, so I suppose that, but never say never. And there are lots of things that I haven't tried yet, so who knows? Next month it could be socks or hats or sweaters.
4. Is there one thing you really have no desire to knit/crochet?
Underwear or bathing suits?
5. How often during the week do you knit/crochet and when do you normally fit in time?
Pretty much every day, mostly in the afternoon and evening.
6. What is your favorite project to date that you knitted/crocheted?
I don't think I have a favorite. If I HAD to pick one...maybe my granddaughter's christening blanket.
7. At this moment, what is your future dream project you would like to knit/crochet?
Ha! Check my faves list on Ravelry. LOL I have all kinds of "dream projects." I don't think I could pick one if my life depended on it.
8. What one new knitting/crocheting thing do you want to learn in 2009?
I think what I really want to learn this year, more than anything, is how to fix mistakes without frogging. But you only asked about knitting and crocheting. I do want to learn to spin and weave, too.
9. What are your "go to" knit/crochet book(s)?
I know others have said this before me, but I have to say it has been that good ole Reader's Digest Complete Guide to Needlework. I've had it for ages and it is very helpful. It is not, however, exhaustive, by any means, so I think it will soon be replaced by some other one that is more encyclopedic. I haven't found that book yet, though.
10. Other than knitting/crocheting are there any other hobbies or activities you enjoy doing?
Well, as I said, I want to learn to spin and weave, but as for something I already do...hmmm...I'm so fickle. I change all the time. Right now I'm really just knitting and crocheting, but last year I was selling jewelry, before that it was latin/ballroom dancing, before that it was wine tasting, painting, playing my guitar, interior decorating/faux finishes, gardening, and the list goes on. I'm a bit ADD when it comes to hobbies/activities.
11. Tell us, how would your close friends/family describe you?
Hmmm...let me ask my husband. He says: outgoing, intelligent, creative, quick-thinking (like a lawyer), adventurous.
12. If you could have a full day to spend with anyone (dead or alive) who would that be and why?
That's a tough one. If we just consider Jesus a given and move on to the next person on the list, I would say my daughter, Larissa. I miss her horribly.
13. What one thing do you know for sure?
That God is in control; therefore, I don't have to freak out.
14. What has our group (Charlotte Purls) changed about you?
I don't think I've changed, really, unless you consider the addition of a great new social circle "change."
15. What do you enjoy most about Charlotte Purls? I love the girl time and that it's such a varied and interesting group. Everyone is loving and accepting of each other and most of all ENABLING when it comes to the yarn! I also love the sharing of knowledge. I know that's not "one" thing, but this is such a great group; I couldn't say just one thing.