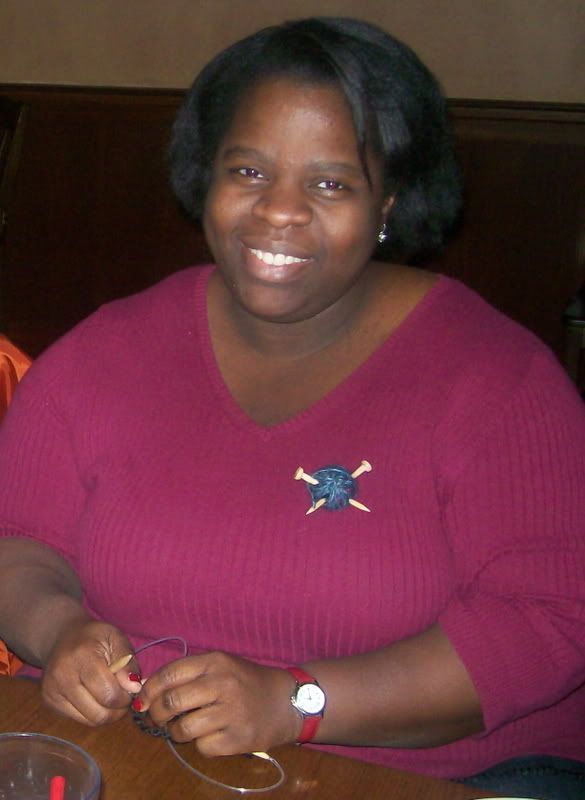 1. How did you hear about Charlotte Purls and when did you join?
I was there at the beginning when Stacey Fran and I met at A. C. Moore. and decided to meet on a regular basis.
2. How long have you been knitting/crocheting and who taught you?
I began knitting around September 2006.
3. What is your favorite item(s) you like to knit/crochet that you could never get enough of doing?
The old fall back is the scarf... there are so many ways to make them.
4. Is there one thing you really have no desire to knit/crochet?
A thong. ; - }
5. How often during the week do you knit/crochet and when do you normally fit in time?
I usually knit on the weekends and late evenings before bed or while watching t.v.
6. What is your favorite project to date that you knitted/crocheted?
Probably the shrug and the baby blanket.
7. At this moment, what is your future dream project you would like to knit/crochet?
Fishnet laceup stockings if I can find a plus size pattern as well as some belly dance wear.
8. What one new knitting/crocheting thing do you want to learn in 2008?
Maybe felting or some lace work. I would like to learn to crochet as well.
9. What are your "go to" knit/crochet book(s)?
Knitty Gritty Knits, and Big Girl Knits. I know it's not a book but I love the
knitty.com
and knitting pattern central websites.
10. Other than knitting/crocheting are there any other hobbies or activities you enjoy doing?
Belly dancing, and cooking.
11. Tell us, how would your close friends/family describe you?
Speshule!!(Say it the way it's spelled.) LOL. Really I think they would describe me as, smart, funny, silly in a good way, loving and nurturing.
12. If you could have a full day to spend with anyone (dead or alive) who would that be and why?
My dad. I miss him.
13. What one thing do you know for sure?
That I will never know everything! (And that's okay!)
14. What has our group (Charlotte Purls) changed about you?
I get out more and am getting more comfortable in larger groups.
15. What do you enjoy most about Charlotte Purls?
Getting time to relax and spend time with my friends whether I'm knitting or not.